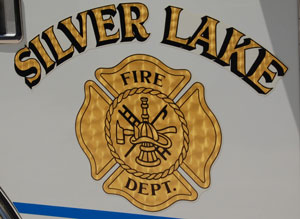 Silver Lake Fire Chief Andrew McFarlane retired effective immediately in a letter sent today to members of the Silver Lake Village Board.
Silver Lake village President Sue Gerber acknowledged that there was a letter, but said in an email this morning to westofthei.com that she had not had time to read it because she was at work.
Village Trustee Roger Johnson, just last week officially appointed chairman of the Emergency Services Committee, also acknowledged McFarlane's retirement. He said late this morning that he was working on ensuring that the village fire protection services would continue.
westofthei.com obtained a copy of McFarlane's letter from a source who wished to remain anonymous. In the letter, McFarlane blames the Village Board for the fire department's current troubles.
"The failure of this department falls solely on you the village board for not stopping the attacks of my members, my family and me," the letter reads. He cites a lack of support from the board and gossiping — including among village staff — as the reason for low morale and participation in the department. At a March Village Board meeting, McFarlane said less than 10 department members regularly respond to calls, though there are more on the roster. On Monday, the Kenosha News reported that Silver Lake FD equipment requested as mutual aid for a box alarm barn fire in Salem did not respond because only one firefighter — who could not drive a truck — responded to the call.
"I apologize for doing this in a time that the department needs stability at the top but this is something that I must do," McFarlane said in his letter. "It is time for me to concentrate on my family and health."
McFarlane has been a member of the Silver Lake FD for 23 years and was chief since Aug. of 2012, when he replaced Bill Brown, who had resigned as chief.
"I hope whoever assumes my role as fire chief will be able to right this sinking ship," McFarlane wrote. "These village citizens deserve the best fire department possible and I did my best to give this village the most professional emergency services department possible. With the lack of support the fire department receives from the village board and the drastic cut to the fire department budget, it is nearly impossible to operate efficiently and keep its members safe."
McFarlane's entire retirement letter is available here.