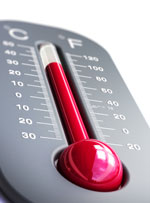 So yesterday's high temperature — forecast for the 70s but reaching the 50s — was disappointing.
But the National Weather Service is still saying we should top 80 degrees today — 82 degrees in fact. We'll see.
Of course there always seems to be a price to pay for warmer weather lately around here and today is no exception. There's an 80 percent chance of thunderstorms tonight and a 60 percent chance Friday. Saturday looks to be nice, with a high of 70 and no rain in the forecast.