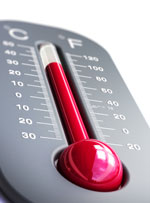 Did the sun on Monday and this morning get you thinking about warmer weather?
You may be in luck. Seasonal temperatures — maybe even a little warmer — may actually be heading our way.
The National Weather Service forecast calls for a high Tuesday of just 59. But then there's a warming trend in sight. The high temperature for Wednesday is forecast for 68, followed by 80 for Thursday and 70 for Friday.
Taking a little edge off of that forecast is that a 40 percent chance of rain Thursday and a 60 percent chance of a thunderstorm Thursday night.