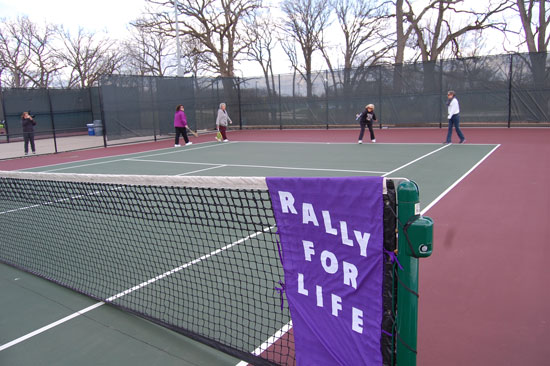 The Western Kenosha County Tennis Association is hosting its first ever 24-hour tennis fundraiser "Rally for Life" this weekend at the Central High School tennis courts.
Proceeds from the event will benefit The American Cancer Society of Kenosha County and The Sharing Center.
The idea for a 24-hour event came out of WKCTA President Bob Ferruzzi's desire to set a record of some kind, said Paul Brings, of WKCTA. Playing for 24-hours was considered more practical than an initial idea of getting a huge number of people — say 1,000 — playing. The WKCTA is looking to keep a tennis ball going back and forth over the net for 24 hours  to submit the event for a Guiness Community Record.
The fundraising aspect was added and the Rally for Life was born.
The rally go under way Saturday afternoon with a ceremonial serve by cancer survivors and those standing for survivors. Here's video of that:
During the 24-hour program, a variety of events took place including special time for youngsters, a first responders challenge, glow in the dark tennis, a Luminary Lighting and more. Here's some video of the Glow in the Dark tennis last night just after midnight, which used glow in the dark balls and glow sticks on the net:
There's still time to get in on the fun. Festivities continue until 3 p.m. Sunday.
Here are the sponsors for the event.
Here are some more photos: