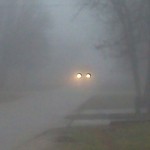 It's foggy out there right now and while that may clear, the day is likely to continue a little gloomy, says the National Weather Service forecast.
Showers are likely before noon today, with perhaps a thunderstorm after noon.
At least a 50 percent chance of rain remains in the forecast through Thursday. The first day with no rain at all in the forecast is …. well maybe next week sometime.