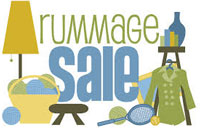 Christ Lutheran Church's Annual Rummage Sale will take place Friday, May 2, from 8 a.m. to 3 p.m. and Saturday, May 3, from 8 a.m. to 2 p.m.
This is an all congregation event and there are expected to be lots of "treasures."
Christ Lutheran is located at 24929 75th St.(Highway 50) in Paddock Lake. Call the church office for more information, 843-2631.