Town of Salem Fire/Rescue and Trevor Firefighter's Association hosted an Open House Sunday to honor Battalion Chief Tom Seep.
Seep was recognized for his service to the community with the fire department and his other volunteer activities.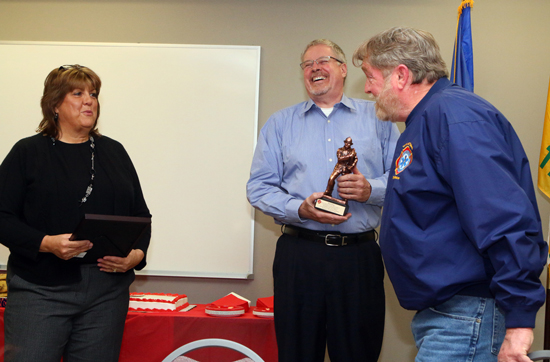 The fire department recognized him for his 36 years as a responder in Trevor, as a firefighter, Battalion Chief and Chief. He joined the department in 1979 and officially retired November 13, 2013.
Battalion Chief Mike Murdoch presented Tom his helmet.
The department recognized the support of his wife Linda with a bouquet of flowers. She also received a unique gift presented by firefighter/paramedic Jim Coppelman. The Tom Seep Paging Alert System. Here some video of that and other highlights from the program: