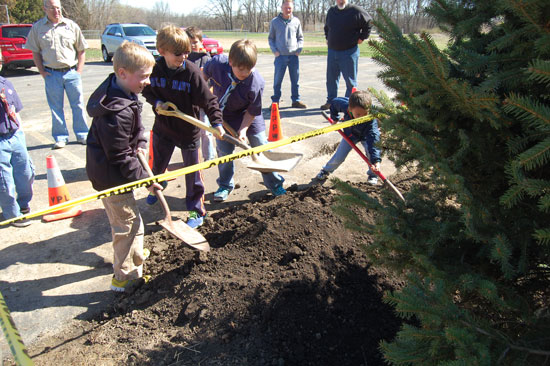 Paddock Lake — as every official Tree City USA is supposed to — celebrated Arbor Day Saturday.
This year's planting had some special significance. The evergreen planted near the northwest corner of Village Hall will serve as the village's Christmas tree for holiday celebrations, said Terry Burns, village president.
Cub Scouts and Boy Scouts from Pack and Troop 328 helped fill in dirt around the newly planted tree.
Village officials also were presented with a 15-year Tree City USA flag by Department of Natural Resource representative Kim Sebastian.
According to Wikipedia:
Arbor Day (from the Latin arbor, meaning tree) is a holiday in which individuals and groups are encouraged to plant and care for trees. Today, many countries observe this holiday. Though usually observed in the spring, the date varies, depending on climate and suitable planting season.The first American Arbor Day was originated in Nebraska City, Nebraska, United States by J. Sterling Morton in 1872.