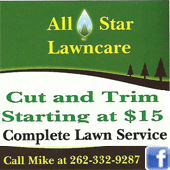 With all this rain the grass will green and grow – but so will weeds.
Now is the time to put down pre-emergent with a boost of nitrogen to keep last year's crabgrass seeds from activating and stop other weeds from moving in.
Fresh mulch and newly cut edging can also inexpensively increase curb appeal. Aeration and dethatching can drastically improve the health of your lawn when done at the right time of the year.
All-Star Lawn Care can help you with this and all of your other lawn and yard maintenance needs. The company has been locally owned and operated for more than 15 years – specializing not only in maintaining existing yards, but also in the designing and planting of new yards and decorative planting areas.
Owner Mike Rozell can help you choose which plants are appropriate for your budget, landscape and soil type. Cut and trim lawn maintenance plans begin at $15.
Free estimates provided within 24 hours of calling 262-332-9287. For more information, click on the ad on this website or visit All-Star Lawncare on Facebook.