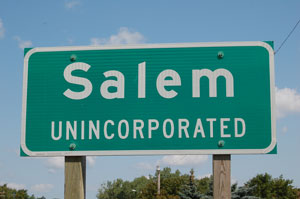 A committee to investigate the town of Salem incorporating as a village will have about 11 to 15 members – including two from the Town Board, Town Board members decided Monday.
But exactly what will be the committee's charge, how they will fulfill it and when are still to be decided.
Such a committee was suggested by resident Kyle Christensen and approved by the present electors at last week's annual meeting.
Incorporation as a village would give Salem some additional self-determination powers and eliminate its land from being annexed into neighboring villages, Silver Lake, Paddock Lake and Bristol.
Board members discussed recruiting members various ways but ultimately decided to include an invitation to participate in a news release to be sent to local media and in the town newsletter to be distributed in June.
"Is there a rush? I don't think there is," Supervisor Dennis Faber said of waiting for the June newsletter.
Board members discussed requesting a letter of interest including some biographical information from those interested in serving on the volunteer committee.
Town Chairman Diann Tesar said two people have already come forward to say they are interested in serving. Faber said Monday he would be interested in serving in one of the board representative slots.
Diversity in outlooks on incorporation and work/education experience would be ideal, Tesar said.
"I think you need everybody," Tesar said. "You need the housewife and the engineer."