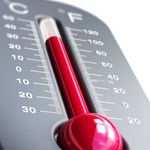 Now here's some good weather news: The National Weather Service is forecasting high temperatures in the 70s Sunday and Monday.
Sunday looks to be the nicer day, with a high of 72 and mostly sunny skies.
Monday, the temp is forecast to be 70, but there's also a 70 percent chance of rain.