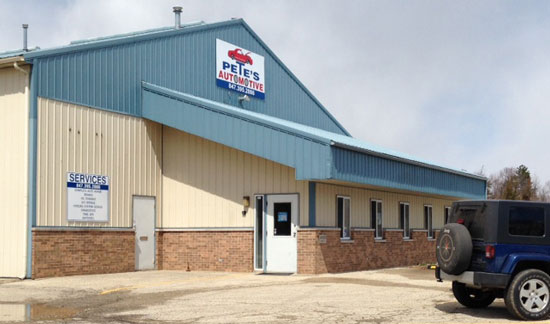 Note: Pete's Automotive is a westofthei.com sponsor.
Pete's Automotive is open in its new location at 43420 N US Highway 45 in Antioch.
The business, formerly known as Bristol Tire, moved from its old location on Highway 45 in Bristol after being relocated by the Wisconsin Department of Transportation for a road widening project. The new building includes a waiting area with free wi-fi, a stocked coffee bar, comfortable seating  as well as a fireplace and TV. There also is a children's play area.
But the main reason you pick an automotive repair shop is the service they perform. Pete's Automotive's experienced and highly skilled mechanics perform a wide variety of auto service using the latest technology including:
Oil Changes
Tire Rotations
New Tires
Towing
Transmission Flushes
Cooling System Flush
Diagnostics
AC Repair
Tune-ups
Brakes
Alignments
Shocks/Struts
Suspension Work
Engine Work
Transmission Work
Wipers
Pete's Automotive is dedicated to auto repair and to serving you with quality and value. Their mission statement says:
For the many years we've been in business, we have been striving to provide our clients the best quality service possible to gain their full satisfaction. And they've shown their appreciation by coming back to us repeatedly. We want to be the auto maintenance and repair facility for all your automotive needs.
Next week only (4/21-4/25) Pete's Automotive we will have a oil change special of $14.95 (5w30 oil only up to 5qts).
Pete's Automotive is open Monday through Friday 7 a.m. to 6 p.m. Phone: 847-395-AUTO.
You can like them on Facebook and on their website.