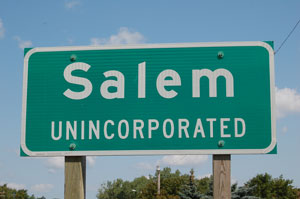 Salem electors at Tuesday spring electors meeting voted overwhelmingly to form a committee to explore incorporation of the town as a village.
The motion to form the committee was made by Kyle Christensen.
There was some discussion about who should be on the committee, but Christensen said he would be in favor of a mix of citizens and town officials.
All Town Board members were present and those who spoke on the matter favored forming the committee.
Said Supervisor Dennis Faber:
"I'm in favor of the committee. I think we all understand that Salem will have to incorporate at some point."
Said Supervisor Dan Campion:
"I'm all for it. There has been so much misinformation sent out. We need to establish what it's going to take to get us into a village."
Said Chairman Diann Tesar:
"It's inevitable for us to incorporate."
Tesar said the board next month would further discuss how to get the committee formed.
The committee's specific charge is still undefined. But the committee would only be advisory to the board and a decision to formally seek incorporation would ultimately fall to the Town Board. An en masse incorporation also would require a referendum, said town attorney Richard Scholze.
The most recent incorporation in Western Kenosha County was in Bristol in 2009. The former town of Bristol was not allowed by the state to incorporate en masse. Instead the northwest portion of the town was allowed to incorporate as a village, which it did in 2009. The village then sought to annex the rest of the town, which it did in 2010 after a referendum favoring that action (vote: 402 yes to 35 no).
Two of the other villages in Western Kenosha County were created out of territory that once was in Salem —  Silver Lake in 1926 and Paddock Lake in 1960.