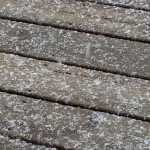 There still is not a lot of snow on the roads, but where it did accumulate — like the back deck at westofthei.com headquarters in Paddock Lake — we got about .5 inch of snow overnight.
There's no snow in the forecast for today, but there is wintry high temperature forecast of 37.
Thursday, Friday, Saturday and Sunday there is a less than 50 percent chance of some rain.