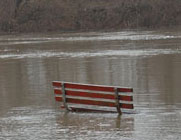 Our recent burst of wet weather has prompted the National Weather Service to issue a flood warning for about the southern half of the state, including Kenosha County.
The warning is in effect from 7 p.m. Sunday to 10 a.m. Monday.
The level of the Fox River, as measured at the New Munster gauge, is forecast to be on the rise starting tonight. It should be over flood stage of 10 feet by Monday evening and peak at about 11.8 feet on Wednesday morning, and fall after that but still be over flood stage by Saturday.