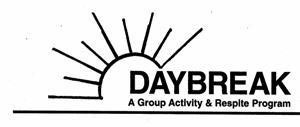 A complimentary Alzheimer's & Related Dementias Educational Series is being offered at Daybreak in Twin Lakes starting April 30 and continuing through Aug. 20. This educational series is for caregivers, professionals, students and anyone else who is interested in learning about the world of Alzheimer's and related dementias.
The series will be held at Daybreak, 701 N. Lake Ave., Twin Lakes.
RSVP is required by the Tuesday before the session.
Here is a flyer with more information, including all session topics.