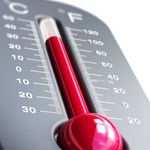 Well that was some nice weekend weather. Did you take advantage of it for either work or fun?
But hey we all know this is fleeting and the weather is going to tank again right?
Maybe not.
The current National Weather Service forecast calls for the high temperatures to be in the 50s and 60s through next Sunday.
Well what about precipitation then. Surely it's going to pour.
Maybe, but not likely. On Monday night, Tuesday, Thursday and Saturday there's a 30 percent chance of rain. Saturday night and next Sunday, there's a 50 percent chance.