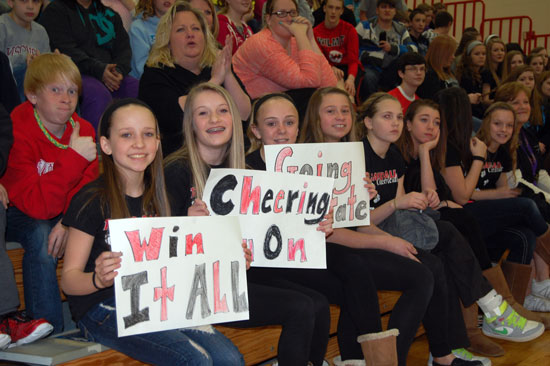 Sending off an athletic team that is fortunate enough to be moving on to a state tournament is an occasion for any school to celebrate, often as a  group in the gym with music and cheers.
With several students this year achieving similar level of accomplishments, but in academics rather than sports, Randall School decided to hold an academic pep assembly on Thursday.
"We were so proud of these accomplishments we decided we wanted to put on an assembly …a pep rally of sorts," said Karen Reddin, the school's gifted and talented coordinator.
Honored were:
Samuel Wank- State National Geography Bee.  To give an example of geography competition, Samuel competed at the assembly against a team of principal Erin Zigler and eighth grade teacher Scott Bies. The staff won a close contest, but it took two of them to top Samuel.
Math Meet Team-State "Mega Math Meet." Members: Carson Doty, Jake Brockway, Alex Wank, Lauren Christensen , Dayne Schleusner, Shae O'Day, Ashley Lesko, Kayla Kerkman.
State WSMA festival-Triple Trio. Members: Rachel Fosler, Ashley Lesko, Sierra Domek, Adia Fuller, Talia Nordigian, Amy Poteracki, Kira Mackay, Makenzie Efflandt, Kordan Kopp. Here's a sample of their performance:

State WSMA festival-Solo : Rachel Fosler. Here's a sample of her performance:

DARE essay contest State Winner: Maddy Hershelman. Kenosha County Sheriff's Deputy Raymond Rowe, who teaches the DARE program in Kneosha County, said Hershelman is the first Kenosha County winner of this statewide contest. There are about 20,000 DARE students — all who wrtie an essay — thoughout Wisconsin, Rowe said. As the statewide essay contest winner, Maddy will get to throw out the fist pitch at a Milwaukee Brewers game. Hee she is reading her essay at the assembly:

In true pep rally fashion, the assembly ended with a special cheer from the cheerleading squad, worked up just for the occasion: