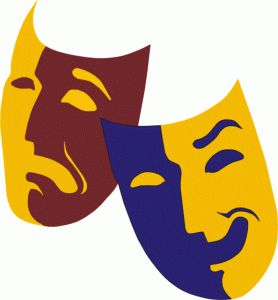 Grease is coming in April to Wilmot Union High School.
The spring musical, Grease, will be performed in the Lance Haas Auditorium on April 10, 11 and 12 at 7 p.m.. This audience favorite, written by Jim Jacobs and Warren Casey, is based on the greasers of fictional Rydell High School and is set in 1959. The musical is loosely based on the Pink Ladies and Burger Boys of Taft High School in Chicago, the school attended by both Jim Jacobs, the playwright, and spring musical director, Deb Fragale.
"I only attended Taft my freshman year, and it was in the late sixties toward the end of the greaser movement and the beginning of the hippy era, but I remember the baggy greys and ratted hair on my classmates," said Fragale.
Jacobs based Grease on his 1959 class and recently staged a revival on Broadway.
"I am excited to direct Grease again, for student actors and audiences love it," said Fragale. Fragale has been directing plays and musicals at Wilmot for over 17 years and has directed Grease twice before  — once in the old Cafetorium and in the new auditorium the first year it opened back in 2006.
This year's cast and crew includes the following: Nick Geyer & Stephen Squires, Danny Zuko; Rebecca Brewer & Hannah Kildahl, Sandy Dumbrowski; Lauren Hanson & Katiana Rachev, Betty Rizzo; Michael Walker, Kenickie; Matt Finzel, Doody; Manny Burnett, Sonny; Morgan Kowitz, Roger; Isabella Andersen & Sarah Poteracki, Frenchy; Amanda Hutchings, Marty; Angela Navoso & Julia Rivers, Jan; Nicole Stevens, Miss Lynch; Jonny Fluger, Eugene Florczyk; Savannah Meyers & Elena Schluesner, Patty Simcox; Kerry John Kerros & Devan Ott, Vince Fontaine; Alan Nogier, Johnny Casino; Angela Marinez, Angelina Lozano , & Sarah Zerr, Charlene "Cha Cha" DiGregorio; Nick Geyer & Stephen Squires, Teen Angel; Alyssa White, Abbey Severt, Claire Griffin, Sierra Severson, Angelina Lozano, Savannah Meyers, Sarah Zerr, Aeryn Burgess, Rachel Osterloh, Lauren Hanson, Katiana Rachev, Angela Marinez, Elena Schleusner, and Kiersten Ekornaas, Beauty School Angels; Alan Nogier, Summer Cliff, Nick Geyer, Sarah Poteracki, Aimee Orndorf, Carter Dybing (under the direction of Mr. John Sorensen), Band at Dance; Backstage Help, Kathy Benser, Alexa Lewis, Rachel Bixler, Kelsey Moen, Cody Ruiz; and Set Designers – Taylor Scott and Destany Matzke-Dyrhovd.
The show is directed by Deborah Fragale and assisted by Choreographer, Katie Brown. For more information about the show, contact Mrs. Fragale at 262/862-2351 extension 148 or at fragaled@wilmoths.k12.wi.us. ,  All tickets are $5 sold at the door the nights of each