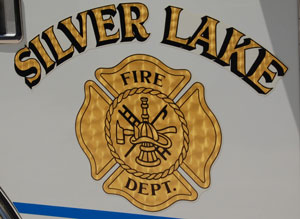 The Silver Lake Village Board is considering reinstating  a points system for paying village firefighters rather than the current hourly system.
The discussion came up at a committee of the whole meeting Wednesday called in part to discuss fire department finances.
Trustee Sotiria Wilber, who chairs the Emergency Government Committee, started off the discussion saying the department is financially strapped due to a combination of maintenance issues and meeting payroll.
"There's no money …," Wilber said.
As a possible way of addressing both points, Wilber suggested the board consider re-instituting a points system for paying firefighters. Under a points system, firefighters accrue points for the types of calls and other department functions they participate in during the year. At the end of the year, the budget for pay is divided by the number of points and each member is paid accordingly. Wilber said a point was worth about $3 the last time she calculated it.
Fire Chief Andrew McFarlane said another advantage of the point system might be more personnel responding to calls. The department has only about nine members actively responding to most calls, he added.
"Everyone showed up when there were points," McFarlane said. "Personally, maybe we would get more activity with the points system; obviously, the wage is not helping …. I just want people to show up on calls."
McFarlane explained that paying hourly is much more expensive when firefighters are on scene for an extended period of time, as has happened twice recently for mutual aid calls. Under a point system, an extended call still counted just as a single fire call.
McFarlane said he hesitated to suggest it, but not having the fire department respond to medical calls also could help finances and ease the manpower demands.
Silver Lake Rescue Squad Chief Bob Johnson said having firefighters also respond to medical calls as first responders has helped the rescue squad.
"They're there as an asset to us," Johnson said. "It's more than lift assist or taking vitals."
However, if firefighters were to stop responding to medical calls the rescue squad would tone out Randall Fire Department or Town of Salem Fire/Rescue for lift assists or other appropriate medical assistance, Johnson said.
The board stopped short of directing McFarlane to stop responding to medical calls or switch over to a points system for pay. Instead Wilber asked him to continue to monitor the situation for March and report back early next month.