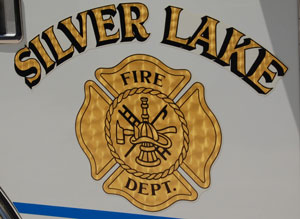 Silver Lake Fire Department Chief Andrew McFarlane and Silver Lake Rescue Squad Chief Bob Johnson said Wednesday night that their respective departments will respect the authority of the other on fire and rescue calls in Silver Lake.
Last year, the fire department came under criticism for calling for a paramedic response from Town of Salem Fire/Rescue on a medical call before Silver  Lake Rescue could make that determination. Just last week, Silver Lake Rescue Squad was criticized by McFarlane for calling off automated mutual aid  response from other fire departments at a fire call last week. The fire in a stove was out by the time a village police officer and two rescue squad members arrived on the scene. Firefighters also were responding.

Both chiefs were in the audience at a village board committee of the whole meeting Wednesday night. On the night's agenda was discussion of the recent incident.
The fire department is part of the village government. The village government contracts with Silver Lake Rescue, a private corporation, for emergency medical services.
Johnson said the rescue squad member who called off the mutual aid committed "gross negligence" and that such a situation would "never happen again."
The two involved rescue members have been talked to about the situation and the whole membership will be briefed at a meeting Thursday night, Johnson said. The squad's procedures also will be modified to emphasize the proper response in such situations.
That assurance appeared to be good enough for McFarlane, who assured rescue that his firefighters also would not overstep their bounds in making calls for paramedics, like what happened last year.
But Trustee Pat Dunn said he felt there should be sanctions against rescue if the situation occurs again. Village President Sue Gerber replied that she didn't feel that was necessary and that Johnson's assurances should be good enough.
After the Dunn and Gerber back and forth, McFarlane criticized how the board has been handling fire and rescue issues of late.
"We need to work with them (rescue)," said McFarlane. "I am losing members left and right because of the (BS) going on in this room. The bickering between you seven,  we just cant take it any more."
McFarlane then turned to face Johnson, who was sitting in the row behind McFarlane, and said to Johnson  "We need to work together until they decide what the hell is going on."
"It won't happen again," Johnson said of the mutual aid call off.