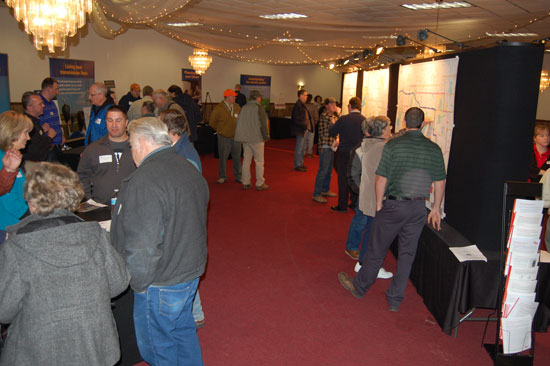 American Transmission Company, the firm seeking to construct new and upgraded electrical transmission equipment from Salem to Lake Geneva, is gathering public opinion at open houses this week.
The first session was held at Marino's in New Munster Tuesday evening. There's another scheduled for today from 3 to 7 p.m. at Hawk's View Golf Club, 7377 Kreuger Road in Lake Geneva.
The open houses highlight the two latest proposal for a route for the approximately 25-mile, 138-kilowatt transmission line. The two current proposed routes were narrowed down from other earlier proposals that were made public early last year. ATC says the project will strengthen the electric transmission system to meet growing demand.
ATC considers the open houses an opportunity for people to get their questions answered and for the company to get feedback about those concerns, said Alissa Braatz, corporate communications specialist for ATC.
People appeared to be taking that opportunity Tuesday. Within the first hour, about 100 people had signed in at the open house in New Musnter, Braatz said. The room was filled with ATC representatives, multiple large maps of the routes, and stations on specific topics such as what the poles look like, living near transmission lines, construction practices, landowner concerns and protecting the environment.
ATC is required to present two route possibilities for the line to the Public Service Commission. ATC does not have a preference among the two current alternatives, Braatz said.
A map of both routes is available here.
One route (pink on the above map) starts at the Spring Valley Substation near Highway C and 98th Street in Salem and travels north to Paddock Lake, proceeds west along Highway K, eventually meeting up for a southward jog along Highway KD and a substation south of Highway 50, then continuing south approximately along the western border of Twin Lakes  before eventually turning west and north toward Lake Geneva. The estimated construction cost of this route is $95 million, Braatz said.
The other route (blue on the above map) starts west from the Spring Valley Substation, then heads north along Highway 83 to about Highway AH, jogs a little west and works its way north to Highway 50, which it largely follows to Lake Geneva. The estimated construction cost of this route is $80 million, Braatz said.
On Monday, Salem town Supervisor Dan Campion said he is concerned about the blue route's proximity to the Salem branch of the Community Library and Salem School, which are both located at the Highway 83 and AH intersection. Town Supervisors Dennis Faber, Mike Culat and Campion said they planned to attend one of the open houses to express their views.
Paddock Lake has had discussions with ATC officials, but has not  taken a formal position on the current routes, said Paddock Lake village administrator Tim Popanda.
Popanda said the village also would like to see the blue route moved about 300 feet farther west as it makes its way north from Highway AH to Highway 50. That path would take the line farther from land along Highway F that is in Paddock Lake and is slated for future residential development.
As for the pink route's segment that is right along the northern border of the village along Highway K, Popanda said the village is "totally opposed to that."
The next step for the project is environmental field study by ATC, scheduled to take place this spring, followed by submission of an application to the PSC in spring of 2015.