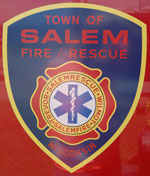 The cause of a fire that destroyed a home in the 6800 block of 288th Avenue (Highway B) in Salem Saturday night is believed to be accidental, Town of Salem Fire/Rescue Chief David "Mike" Slover said today.
No one was injured in the fire; the occupants of the home were out of town. Pets in the home died in the fire.
From a statement released by Slover:
Town of Salem Fire/Rescue responded with Kenosha County Sheriff's Department, Silver Lake Fire and Silver Lake Rescue to a report of an attached garage fire with flames showing at 10:15 Saturday night. First fire department unit on scene reported totally involved garage with heavy flame involvement to the rear of the house. Fire department upgraded the response using the MABAS system to request additional resources. Departments assisting were Bristol, Randall, Wheatland, Racine Fire Bells, and Newport Fire with units from Somers, Pleasant Prairie, Antioch Fire Department to cover the Town's jurisdiction from our station 1 in Trevor in case of subsequent calls. The house was not occupied as the residents were out of town on vacation. The house sustained heavy damage and will be declared a total loss. Several pets were lost to the fire. Fortunately there were no injuries to responders and units cleared the scene at 03:16 am the following morning. Cause and origin is under investigation by the Kenosha County Sheriff's Department and is believed to be accidental and not believed to be suspicious.