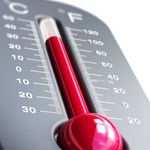 The National Weather Service is forecasting the warmest temperature we have had around here in a long time  — 53 for today's high. Even at 5:38 a.m. it's 39 degrees.
Alas, we are not done with colder temperatures or even snow this week. Tuesday night may see as much as an inch of snow accumulation.
But after another cold day Wednesday, we are in line for a string of more seasonable days with high temperatures in the 30s and 40s through Sunday.