Conflict over who has authority to do what on calls with Silver Lake Fire Department and Silver Lake Rescue Squad reappeared this week — with the fire department disputing the rescue squad's action this time around.
Village Trustee Sotiria Wilber brought up the issue at Wednesday's Village Board meeting under committee reports. She referred to a letter that Fire Chief Andrew McFarlane sent to the Village Board dated March 5 that said a rescue squad EMT on the scene of a fire call on March 4 called off automated mutual response from other fire departments because the stove fire at a home on  Depot Street was out at that time. McFarlane contends that Silver Lake Rescue Squad personnel are not sufficiently trained to make such a judgment on a fire call and should have waited until fire department personnel were on the scene (six were en route, McFarlane says).
Automated response refers to a system in which multiple fire departments are dispatched to certain types of calls, such as structure fires, to speed the response of all the necessary equipment and manpower, rather than waiting for the home department to arrive and then call for aid.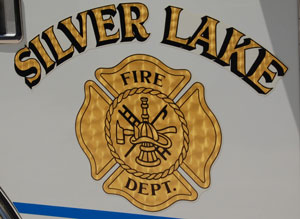 An earlier dispute about conflicting authority between the departments — dating back to last fall — was just settled in January. In that case, rescue squad supporters on the Village Board were upset that a fire department member, acting as a first responder, had called for a paramedic from Town of Salem Fire/Rescue to a scene of a medical call before staff from the rescue squad had a chance to evaluate the situation.
The fire department is part of the village government. The village contracts with Silver Lakes Rescue Squad, a private entity, for emergency medical services.
Conflict between partisans who favor the fire department or the rescue squad has dominated village board discourse for over two years.
In the March 5 letter, McFarlane says the action by the rescue squad EMT was inappropriate because that person may not have been trained as a firefighter and raises a liability issue for the village if it were to happen again. He also references the earlier conflict over medical calls:
I have 6 fire fighters that were on the call asking how a person or persons that aren't trained as fire fighters can make the determination to stand down our mutual aid from other departments. This being done creates a liability to me and my fire fighters. Fortunately the incident wasn't as serious as initially thought. My concern and the members of this department's concern is the fact that it isn't SLRS's place to make a determination of how or what responds to a fire call. We aren't allowed to make any decisions on patient care for medical calls even though some of our members responding to those calls have the same level of training or higher."
McFarlane's whole letter is available here.
Wilber said at Wednesday's meeting that she would like to see some kind of meeting between the agencies to make sure this does not happen again. On Saturday, she said a Committee of the Whole meeting is planned for Wednesday in which this matter could be on the agenda.
Note: We offered Silver Lake Rescue Squad an opportunity to respond by emailing a officer of the squad on Friday and following up with emails to the general rescue squad email address and a private message to the squad's Facebook on Saturday. As of posting time late Saturday afternoon, we had not received a response. If we get one, we will post it. — DH