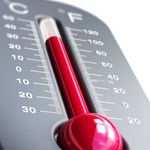 Warmer temperatures are finally appearing in the local National Weather Service forecast — starting today.
Today's high is expected to reach 39. Of the next five days in the forecast, four are expected to have highs above 35 degrees. Right now, Monday's high is forecast to reach 46.
Can you say snow melt?
The only substantial chance for precipitation in that period is tonight, with a 50 percent chance of rain and snow before midnight, followed by snow.