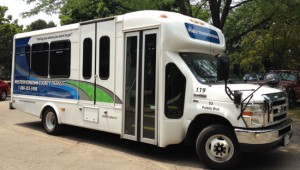 Note: Western Kenosha County Transit is a westofthei.com sponsor. — DH
The week of March 3 – 9, 2014 has been officially declared as Transit Week throughout the state by Governor Scott Walker. Western Kenosha County Transit plans to celebrate with a variety of daily activities and giveaways for riders:
Monday – Many Thanks Monday: Riders will receive a token of our appreciation when boarding the bus.
Tuesday – Transit Trivia Tuesday: Riders can test their transit knowledge by answering our transit trivia questions.
Wednesday – What Western Transit Means to Me Wednesday: This is an opportunity for riders to tell us how Western Transit improves their quality of life.
Thursday – Thank Your Driver Thursday: Public transportation drivers often go above and beyond the call of duty to get riders where they need to go. Today we encourage riders to take a moment to thank drivers for their service and commitment.
Friday – Free Ride Friday: Riders boarding with a transit ambassador button can ride the route bus for free on the first Friday of every month.
AAA estimates that it costs 60.8 cents per mile to own and operate a car.
Using this rate, the cost of driving the 20 miles from Southport Plaza in Kenosha to Twin Lakes is roughly $12.16 each way. Western Transit charges riders only $2.00 each way for route service. That amounts to a savings of $10.16 one-way or $20.32 round trip.
According to a 2013 rider survey, almost half of riders did not have a valid driver's license and a third did not have access to a vehicle in their household.
The top three reasons for riding were to go shopping, get to work, or to visit friends or family.