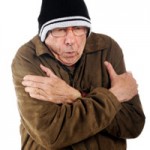 Another day, another bitter cold morning.
The National Weather Service has issued a wind chill advisory starting at 3 a.m. Thursday and expiring at noon.
The local forecast calls for a high temperature of 5, which paired with winds of 10 to 15 mph and gusts to 30 mph, may produce wind chill as low as -25.
Friday? A 60 percent chance of snow at night.