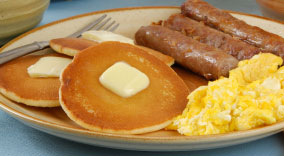 Silver Lake's Boy Scout Troop 329's Pancake Breakfast & Silent Auction will be  Sunday March 9, at Holy Cross Church, 30100 Wilmot Road (Highways C and B), Wilmot, from 7:30 a.m. to noon.
Admission costs for seniors and children are $3, adults are $5. Pancakes, sausage, eggs and milk, juice or coffee are being served.
There also will be a silent auction.