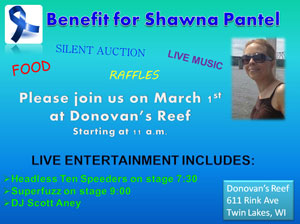 A benefit will be held for cancer patient Shawna Pantel on Saturday, March 1 at Donovan's Reef in Twin Lakes.
Pantel is a local of Twin Lakes and a daycare teacher at Grace Lutheran for 18 years.
Pantel was diagnosed with stage three colorectal cancer some time ago. At the time of diagnosis, it had already metastasized. Although she did her best to put money aside to save for the rough times ahead, bills have piled up, and savings have dried out. She is a single mother of two boys, and has been unable to work since April of last year.
The benefit will start at 2 p.m.. There will be a live dj from 2 until about 7 p.m. Ten Speeders will go on at 7:30  p.m. Headliners Superfuzz will go on around 9 p.m. There will be a $10 cover charge to see the bands. There will be food available, as well as good times, drinks, a 50/50 raffle, and silent auctions for basket items.