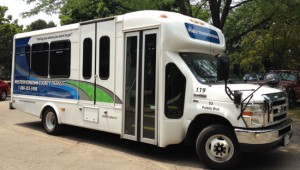 Note: Western Kenosha County Transit is a westofthei.com sponsor. — DH
Western Kenosha County Transit, a public bus service operating west of I-94, is making schedule changes to enhance service. The changes will go into effect on Feb. 17. Passengers can get a copy of the new schedule on any Western Transit bus, at the Aging & Disability Resource Center, or on Western Transit's website: www.kenoshacounty.org/transit .
Half-mile Flexibility Added: For an additional $1, riders can now request to be picked up by the route bus at any location within ½ mile of the route. This should be a welcome service improvement for riders with limited mobility, those burdened with heavy bags following a shopping trip, or riders who simply want to avoid weather conditions. Riders can request a detour when boarding the bus or by calling Western Kenosha County Transit in advance at 1-888-203-3498. Regular fares remain the same.
Updates to Bus Stop Locations: In response to public demand, Lincoln Crest apartment complex in Twin Lakes was added as a regular bus stop. At a public hearing held in late 2013 the complex submitted a petition stating, "There are several residents who rely on your transportation for all of their medical and housing needs." Meadowview Apartments, an adjacent complex, and the Twin Lakes Community Library were also added to the route. Twin Lakes' residents account for roughly 38 percent of ridership according to last year's survey. The Kenosha County Center in Bristol is now served upon rider request instead of hourly stops. Connections to Other Transportation Western Transit will now meet Kenosha Area Transit routes #2 and #4 at each stop in the late afternoon to allow more opportunities for passengers to transfer between both systems.