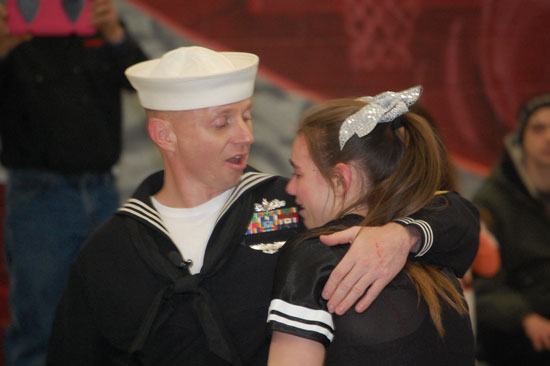 Delainey Smith thought she just was at a Central Cheer performance for parents and other supporters before Regionals at the school in Paddock Lake Friday evening .
But as the team came out to perform their routine, Delainey saw a face she had not seen in person for about a year — that of her father William Smith, had been deployed on the US Navy aircraft carrier USS  Nimitz and just returned home today.
Here is the video of the big moment:

Delainey's mother Melinda said she had been planning the surprise for about two weeks to make it all come together right.
When Delainey saw her father she crumpled to the floor in an emotional heap. That wasn't the reaction William Smith was expecting. He expected Delainey to tackle him like a linebacker, he said.
After the emotional reunion, Delainey rejoined the squad for the evening's original purpose. Here's some video of the whole squad: