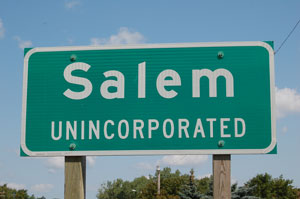 The Salem Town Board, at Monday's regular monthly meeting, took no action on an agreement between the town and Silver Lake that would have Salem provide fire protection and EMS service to the village for 10 years.
No surprise there. Progress on the agreement is stalled right now after a direct legislation petition was presented to the Silver Lake Village Board last week that seeks to ban the village from entering into any such agreement.
But though no action was taken Monday Salem, Salem Supervisor Dennis Faber took the occasion to address what he called some false rumors he has heard about the agreement.
First up the rumor that Salem initiated the agreement. Not so, Faber asserted:
"For some reason people are saying we initiated this action. We did not initate this action. We were asked to help … Take it out of politics, that's what we would do."
Second rumor: Salem needs the revenue from the contract to pay for the fire department headquarters/highway department complex on Highway C. Faber — and some other board members and town staff — scoffed at the idea. Said Faber:
"We can very capably move forward with or without providing this service."
The matter may be before the Silver Lake Village Board again Feb. 19. At last week's board meeting the matter of how to react to the direct legislation petition was tabled so board members could look over the petition.