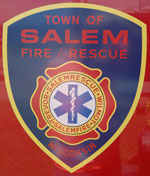 The Salem Town Board heard Monday how donating a surplus vehicle from the town's fleet could facilitate a significant new tool in emergency medical services response.
Dr. Ben Feinzimer, Kenosha County EMS medical director, told the board how he would like to use the vehicle to respond to appropriate scenes of medical calls. In the field he could bring additional expertise and help direct medical care being delivered to patients.
Having the town contribute the surplus vehicle for Feinzimer to use was the idea of Town of Salem Fire/Rescue Chief Mike Slover. When Slover presented the idea at a November 2013 Town Board meeting, some board members wanted to hear more about how the vehicle would be used before committing to the donation.
The vehicle is a 2005 Ford Explorer most recently used as a response vehicle for the Wilmot Station battalion chief.
"It's going to be beneficial for all EMS in Kenosha County," Slover said. "We are pretty excited that he's going to be able to respond."
Feinzimer, an emergency medicine specialist for United Hospital Systems of Kenosha,  serves as the medical director for the fire departments in Salem, Bristol, Silver Lake, Somers and Pleasant Prairie. He was a firefighter/paramedic before he was a doctor.
Though his chief responsibility is in the hospital emergency room, Feinzimer said he also wants to be able to assist those on the scene in the field in making decisions that ultimately — as medical director — he is responsible for.
While Town Board members did not vote Monday on the donation, most  seemed to be in favor of making it.
"I think it's great," said Supervisor Mike Culat.
If the donation is approved, the vehicle's current fire department makings would be removed and replaced with hospital markings.
Other municipalities are donating to the effort to get Feinzimer ready for efficient field response. Pleasant Prairie has donated a communications radio and another department has donated protective gear for Feinzimer, Slover said.