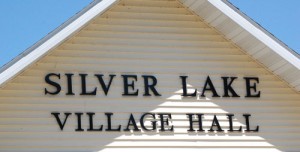 Action on a direct legislation petition that seeks to forbid the Silver Lake Village Board from contracting with Salem for fire protection and EMS service was tabled by the Silver Lake Village Board Wednesday.
The petition must be acted on by the board within 30 days of it being submitted. That happened in late January.
Trustee Patrick Dunn moved for the tabling, arguing that he and other members of the board had not had time to examine the petition.
"There was nothing in our mailboxes or packets for us to look at this at all," Dunn said.
The vote to table passed on a voice vote. Trustee Sabrina Moran appeared to be the only no vote. Village President Sue Gerber abstained, but did not state the statutory reason she did so, as is required.
Village Clerk Terry Faber, who certified the signatures, took umbrage at Dunn's suggestion that some might still not be legitimate.
"Now you are calling me a liar," Faber said. "You are telling me I'm not doing my job."
Voting on a contract that would have Salem provide fire and EMS service to the village for about $101,000 per year was also on the agenda of Wednesday's meeting. Dunn attempted to have that item moved up before the petition discussion, but village attorney Linda Gray said the board could not act on the contract once the petition was submitted until after the petition's issue is decided.
If the board agrees with the resolution in the petition, they can approve it and it would go into effect. If they do not approve the resolution, the matter will be decided by a binding referendum, whose decision would be in effect for two years, Gray explained, adding that the action in the resolution was appropriate under state statute.
"They can do this," Gray said.