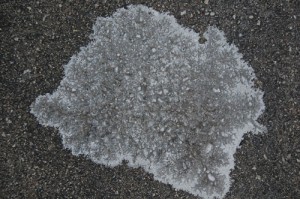 A winter with more snow and ice than typical has local public works departments implementing practices to conserve salt.
Here's a sample of what some of those responsible for keeping local roads clear and safe told us about their departments salt situation so far this season:
Gary Sipsma, Director of Division of Highways, Kenosha County — "We have approximately 4000 tons of salt available to use on the County Trunk Highways.  If the balance of this winter season is "average", we would have enough salt.  This winter has not been average and we foresee the continued trend of above normal snowfall events.  Therefore, approximately two weeks ago we began some salt conservations methods. We began using a 50/50 sand salt mix on low volume County Trunk Highways and Town Roads.  We have also increased the use of liquid products with the salt.  The liquid we use is Magnesium Chloride.  The liquid increases the melting ability of the salt so we can reduce the amount of salt applied to the road. The consequences of running out of salt are significant so we continuously monitor our salt inventory and will take expanded conservation methods to have enough salt for the season. The salt supply company has notified us that there is no additional salt available beyond our current order. Please note that the above information only applies to County Trunk Highways and Town Roads maintained by Kenosha County. Salt used on State Highways and the Interstate is supplied by WIDOT. WIDOT has directed Kenosha County to not reduce any levels of service, so there will be no salt conservation activities on WIDOT highways."
Patrick Casey, Salem town administrator — "The Town of Salem has approximately 150 tons of salt on hand and contractually can order another 250 tons if necessary. Due to the extreme cold the Town has been mixing sand and birds eye with the salt, more for traction than anything else as salt begins to lose its effectiveness in lower temperatures. We expect to be fine the rest of the winter as temperatures warm up a little salt goes a long way. In other words we are in good shape…All thanks to the Highway Superintendent and the Highway Crew."
Randy Kerkman, Bristol village administrator — At a Village Board meeting Monday, Kerkman reported to the Village Board that the salt on hand now will have to get his public works department through the season. "We are mixing sand with salt now to make it last longer," he said in an email on Friday.
Tim Popanda , Paddock Lake village administrator — This year, Paddock Lake is observing already in place, but not always followed, protocols on street plowing that leave many village streets in a state of packed snow, but not clear to the pavement (some collector streets to Highway K and Highway 50 are plowed and salted to bare pavement). This results in a savings of salt, but that is as much about keeping chlorides out of the village waste water treatment plant when th ground thaws as it is about saving salt, Popanda explained. Village officials are concerned that if readings at the treatment plant for chloride continue to be high that the state may require expensive equipment there to eliminate the problem. To increase traction on hills and curves, the village also has been applying birds eye stone (something between sand and pea gravel in size) with salt.