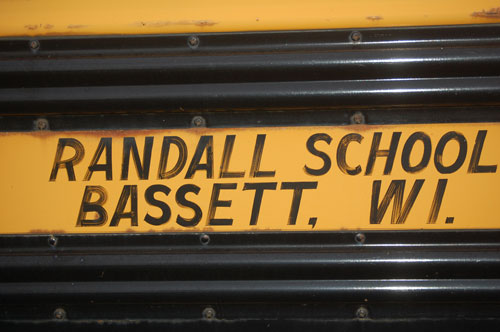 The resignation of district administrator Steve Bloom was accepted by the Randall School Board at a special meeting this evening.
The vote to accept the resignation was 3 to 1.
Bloom will continue to serve as administrator until June 30.
Board President Val Lass said the board would have no comment on the move until after Bloom had a chance to meet with staff.
Bloom said he was asked to either retire or resign, but retiring was not an option as he is not of retirement age. He said he will continue to perform his duties and end the year on a positive note. His objective has always been what's best for the school's students, he added.
The board met in closed session for about 90 minutes before returning to open session. The announcement of Bloom's resignation was made by Lass just after the meeting adjourned.
Bloom has been the school's district administrator since 2004.
The board also said changes to business manager Carol Gebhard-Dyer's contract were agreed to in the closed session.
The board will meet again Friday at 10 p.m. for the following agenda item:
Potential action to issue a preliminary notice to consider the nonrenewal of the Business Official's individual administrative current contract pursuant to Wis. Stats. 118.24."
That action is required so that Gebhard-Dyer does not have two contracts in effect — the new one approved Thursday and her old contract rolled over.