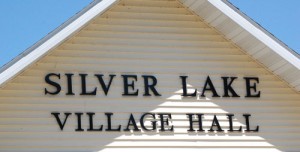 Silver Lake's ethics ordinance might keep two members of the Silver Lake Village Board from voting on a contract that would have Salem provide fire and emergency medical services to the village.
The possible entanglement exists because two board members — village President Sue Gerber and Trustee Sabrina Moran — have connections to the Silver Lake Rescue Squad. Salem says it intends to contract with SLRS for first response within the village as part of the agreement, according to a proposal given to board members last week.
The ethics ordinance states, in part:
Any member of the Village Board who has a financial interest or personal interest in any proposed legislation before the Village Board shall disclose on the records of the Village Board the nature and extent of such interest; such official shall not participate in debate or vote for adoption or defeat of such legislation. If the matter before the Board involves a member's personal interest with persons involved, the member may participate in debate or discussion and vote on the matter following disclosure, unless an ordinance or contract is involved; if an ordinance or contract is involved, such official shall not participate in debate or discussion and vote on the matter."
Moran, who is a member of SLRS, could be effected by the financial interest provision of the ordinance. The ordinance defines a financial interest as "any interest that shall yield, directly or indirectly, a monetary or other material benefit to the officer or employee or to any person employing or retaining the services of the officer or employee."
Gerber's conflict could come from personal interest as defined by the ordinance. Her son, Dan Gerber, is a member of SLRS. Personal interest is defined in the ordinance as "the following specific blood or marriage relationships: … a person's spouse, mother, father, child, brother or sister."
Salem town administrator Patrick Casey, when asked if the SLRS hiring is likely to be part of the final contract, said "I would expect that the provision to hire the Silver Lake Rescue Squad would be in the contract in some form."
However, the fact that Salem would be the actual agency contracting with SLRS might give Gerber and Moran some wiggle room.
Requests for comment on their opinion on whether they can vote on the contract were not answered by Gerber (contacted by email) or Moran (contacted via the SLRS official Facebook page).
In February 2013, Gerber was found to be in violation of the ethics ordinance when she voted on a contract with SLRS in December of 2012. In October, Gerber voted against another contract regarding SLRS, but immediately after the vote apologized for the error. The vote on that contract passed regardless of Gerber's opposition.
Discussion of the fire/EMS agreement is on the agenda of a Committee of the Whole meeting Thursday evening at 7:30 p.m. at Village Hall.