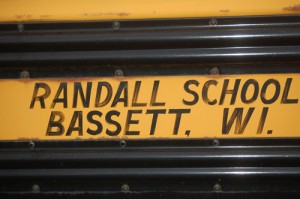 The Randall School Board will meet in a special meeting Thursday to consider the continued employment of two administrators.
The board is expected to go into closed session for the following agenda items:
Discussion and potential action to accept the resignation of the District Administrator (Steve Bloom) based upon the terms mutually agreed to by the Board and the District Administrator.
Discussion of potential action to issue a preliminary notice to consider the nonrenewal of the Business Official's individual administrative contract pursuant to Wis. Stats. 118.24. c. ( Carol Gebhard-Dyer is the district's business manager).
Discussion and potential action to issue an administrative individual contract to the Business Official.
The board's agenda also says the board could convene into open session to take action or make announcements as appropriate.
The agenda also calls for an open session to consider the agenda items regarding the business manager items.
Bloom has been Randall district administrator since 2004.
Bloom's contract was the subject of a special board meeting on Jan. 21. Gebhard-Dyer's contract was the subject of a Dec. 30 special board meeting. Discussion of administrative contracts also was the topic of an executive session at the end of the Jan. 8 regular board meeting.