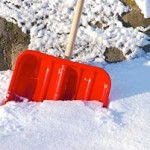 We measured a solid 3 inches of snow fall overnight at westofthei.com headquarters in Paddock Lake. That was the most that was in the forecast.
There's no new snow accumulation in the forecast for the next couple of days, though wind should pick-up later today and start blowing around the snow already on the ground, with a winter weather advisory kicking in around 3 p.m. due to the blowing snow and extending to 6 a.m. Monday.
Those dropping temperatures will bring a wind chill advisory from midnight tonight to 9 p.m. Monday, with wind chill during that period in the -25 to -25 range. That will be followed immediately by a more dire wind chill warning in effect from 9 p.m. Monday to noon Tuesday, with even colder wind chill during that period in the -35 to -50 range.
Wednesday looks to be sunny with a high of 14.