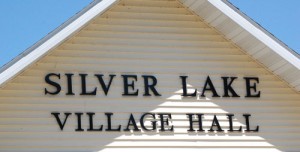 Silver Lake Trustee Patrick Dunn, at Wednesday's Village Board meeting, verbally blasted whoever vandalized his truck Monday while it was parked at Village Hall and he was attending another meeting inside.
Dunn said he discovered the damage while the vehicle was still at Village Hall, about an hour after the meeting ended at around 6:40 p.m. Dunn said he had gone to the fire department, which is adjacent to Village Hall, to meet with an individual and then out to his truck. Before walking out, he joked to someone that he better go out to the vehicle before it was vandalized, he said.
When he got to his vehicle he found the the right front fender and the left rear quarter panel scratched with a key or other object, both scratches longer than a foot in length.
Dunn said he has reported the incident to Silver Lake Police.
Dunn has been an outspoken proponent of the village working with Salem to provide emergency medical service to the village, which was the topic of Monday's meeting. Dunn and village President Sue Gerber — seen as an advocate for continuing to contract with Silver Lake Rescue Squad for EMS — did argue some at Monday's meeting about when to vote on a fire/EMS service proposal from Salem, but Dunn relented in the end and the meeting in general was not as heated as some on the EMS topic had been in the past.
At Wednesday's meeting, Dunn said "This (meaning disagreements about village actions) is not personal. This is something we are elected to do. Destroying my property, that's personal."
Dunn said he is sure the truck was not damaged before because he had just had it washed at a car dealer shortly before and had been admiring how good it looked.
Also at Wednesday's meeting, Gerber condemned the incident.
"I'm ashamed that anyone in our community, that something like this would take place," Gerber said. "If it was an adult, I'm very appalled at that."
No surveillance video is available to help identify a suspect, Gerber said.