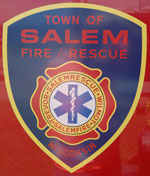 Salem would cover Silver Lake for fire protection and emergency medical services for an annual fee of about $100,000 a year, under a proposal delivered to village trustees by the town at a joint meeting of the Silver Lake Village Board and the Salem Town Board Monday at Silver Lake Village Hall.
The proposal was based on work done by the town since a Dec. 16 meeting in which the two municipalities discussed sharing fire and EMS services.
Salem town administrator Patrick Casey said the fee was based on the fee charged to Paddock Lake, which has long contracted with Salem for fire and EMS service. By that measure, Silver Lake's annual fee would actually be about $143,000, but the town is including annual station rent of $10,200 and an equipment credit of $33,700, along with some other credits to reduce the fee to about $100,000.
Salem is proposing continuing to use the Silver Lake Station and equipment. Current Silver Lake firefighters could apply to join Town of Salem Fire/Rescue.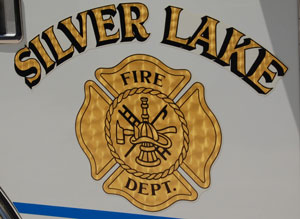 The proposal put forward Monday also states that Salem would intend to contract with Silver Lake Rescue Squad — the village's current EMS contractor — to provide first responder services to the village for the balance of 2014. Salem also would reserve the right to extend a first response agreement to Silver Lake Rescue in future years if appropriate.
Salem Fire Chief Mike Slover said his department could assume responsibility for Silver Lake within 30 days of a signed agreement between the two municipalities.
Silver Lake Trustee Patrick Dunn said the Salem proposal represented about $15,000 more per year than the village now spends for fire and EMS, noting that it includes access to more advanced EMS services. Salem Fire/Rescue is a paramedic department. Silver Lake firefighters also would benefit from more experience by working for  Salem, Dunn added.
Dunn was satisfied enough with the proposal that he moved for the board to vote on it at its next regular meeting, this Wednesday.
However, village President Sue Gerber objected to that time frame, saying it did not allow enough time for discussion among Silver Lake officials. She also contended that Wednesday's agenda has been posted already and should not be amended except for an emergency. She said the Salem proposal was not an emergency.
Dunn allowed his motion to be amended to call for  action to be taken on the proposal at the Feb. 5 meeting. The motion passed with that amendment.

No other Village Board member besides Dunn expressed an opinion on the worthiness of the Salem proposal, though Trustee Cyndy Schwebke said she did not think it  would take much more discussion because it was "straight forward" and "spelled out."
Trustees Sotiria Wilber and Michael Decker were not at the meeting.
Gerber said she wants to have a committee of the whole meeting to discuss the agreement further before the Feb. 5 meeting. She said board members would work out a date at Wednesday's regular board meeting.
Currently, the village controlled Silver Lake Fire Department provides fire protection to the village while the village contracts for EMS service with Silver Lake Rescue, a separate entity not under village control. How to move forward with a fire department that increasingly is finding it difficult to maintain staff and provide equipment has been discussed by village official since the fall of 2011, under an initiative begun by then village President Jeff Albrecht.