Silver Lake Rescue Squad members will be making the calls on when a paramedic intercept is needed on medical calls in Silver Lake, village President Sue Geber said Wednesday.
Backing up Gerber's assertion is a new letter she has in her possession from three top state emergency medical services officials. She read from the letter at a Committee of the Whole meeting Wednesday.
Both Silver Lake Fire Department members as first responders and members of the Silver Lake Rescue Squad, the village's contracted emergency medical services provider, have been responding to medical calls in the village since early last year. At times there have been conflicts over who — SLFD personnel or SLRS personnel — should make the call to bring in a paramedic (typically from Town of Salem Fire/Rescue) for advanced treatment such as administering certain pain drugs.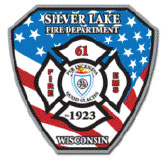 The issue of who can make the determination that a paramedic is needed surfaced at the Village Board level in August. At the Sept. 19 Village Board meeting, village attorney Linda Gray said she her research indicated that the highest rated entity — in this case SLRS — should make the call for paramedic service, unless an agreement stating otherwise is in place. In October, Silver Lake Fire Department member Greg Galich said he was dissatisfied with Gray's Sept. 19 answer and sought an answer of his own from the same state department Gray questioned. He said he ultimately was told an independent contractor delivering emergency medical services — like SLRS — should answer to the village fire chief, in a concept called unified command. Galich is a retired Kenosha Fire Department officer. Galich's understanding of who should make the paramedic call — SLFD personnel — was written into a contract submitted for SLRS approval in October.  Village President Sue Gerber was the only vote against sending the contract to SLRS. However, after voting she apologized for doing so because she has a known conflict of interest with voting on issues related to SLRS due to family connections. Trustee Michael Decker was absent from that October meeting.
Wednesday, Gerber said the latest communication from state officials affirms Gray's findings that SLRS should make the medical call. The two departments should operate under unified command under the village controlled SLFD, but the decision on the medical aspect of whether a paramedic should be called still should lie with personnel from the highest rated EMS entity, in this case SLRS, the letter also says.
"The fire department will not interfere with medical calls," Gerber said. "If they do not abide by this decision from the state, this will become a legal issue. "
Gray suggested that Gerber inform fire Chief Andrew McFarlane of the state opinion and how it is to be followed.
The rescue issue meshed with another issue Gerber brought up earlier in the meeting regarding the fire department. She contended that day staffing for the fire department was not needed as long as the village continues to contract with SLRS for EMS. Firefighter staffing during the day was originally instituted to provide first responders for medical calls in anticipation of Salem providing EMS to the village, an arrangement that fell through. Instead of continuing with daytime FD staffing she proposed making a temporary part-time maintenance department employee permanent.
To keep occupied, day time firefighters who are on duty and being paid have been asked to do other tasks around village hall, such as shoveling snow and cleaning in village hall.
Gerber said that arrangement in her opinion is not working because some individuals are unwilling to do it and some need a lot of direction or supervision from maintenance.
"To me it's unproductive work," Gerber said.
Trustee Michael Decker, a former SLFD firefighter, seemed to agree with Gerber.
"I personally dislike the idea of paying someone to sit over there for eight hours," Decker said. "There isn't enough work."
But others defended the benefits of having firefighters on hand. Trustee Sotiria Wilber said she felt maintenance issues have been decreased because firefighters are regularly checking equipment. She also pointed out that having one firefighter on hand means only having to wait for one other to respond in the case of a fire call.
Trustee Cyndy Schwebke said maybe a compromise on paying firefighters for day shifts is in order such as 4 paid hours with 4 volunteers hours. But she also likened paying for the staffing to insurance.