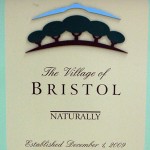 Signs taller than 15 feet will only be allowed right along Interstate 94 in Bristol, as the result of changes to the village sign ordinance adopted Monday.
The Bristol Village Board voted 4 to 1 in favor of the changes, with Trustee John McCabe the lone dissenting vote.
The biggest change to the ordinance was to not allow signs higher than 15 feet at businesses in Bristol, with the exception of right along I-94.
Another change limited the number of colors that can be used in action type display signs, said Randy Kekrman, village administrator.
Existing signs that violate the new law will be allowed to remain, Kerkman said.
In an email response to a question posed by westofthei.com, McCabe explained his opposition to the changes this way:
I wanted to include a zone on Hwy 50 for elevated signs like on Hwy 94. 50 is a state Hwy with commercial businesses.  Some businesses already have the type of signs that are now prohibited, but are grandfathered in and should stay. It will be hard for new startup businesses to have smaller, non-TV like signs and try to compete with the more modern electronic display signs. I also objected to the non-TV (display) signs. We are in modern America and business is changing. Signs like the Brat Stop and Action Territory display more up to date information and can communicate announcements like weather, time, news, etc.  In other parts of Bristol, display signs do not need to be large like on Hwy 50, but could look nice if done in smaller designs."