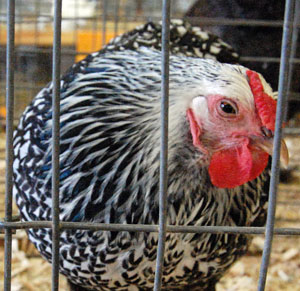 Changes to a village ordinance that will allow more keeping of chickens in residential neighborhoods were approved by the Bristol Village Board Monday night.
The vote was unanimous in favor with all board members present.
In the past, chickens were not allowed to be kept under village ordinance on residential zoned lots of under 5 acres (R1 zoning).
Last fall, complaints about people keeping chickens caused the village to issue notices of non-compliance to several chicken owners in the Lake George and Cherry Vista Dells neighborhoods. The complaints centered around noise from roosters and odor.
But at an Oct. 15 Village Board meeting , several residents voiced support for allowing chicken keeping in more residential neighborhoods. No opponents of keeping chickens on smaller lots attended.
That started a process of review by staff, interested residents, the Plan Commission and the Village Board that resulted in the ordinance passed Monday.
Under the ordinance passed Monday:
Properties of 15,000 square feet to 6,000 square feet (R4 to R6) are allowed 4 chickens, no roosters.
Properties of 40,000 square feet  to 20,000 square feet (R2 to R3) are allowed 20 chickens per acre to a maximum of 30 with one rooster per 10 hens.
Properties of 5 acres (R1) are allowed up to 60 chickens for conforming lots and buildings with one rooster per 10 hens.
Marv Farm, a Cherry Vista Dells resident who keeps chickens and was served with a non-compliance notice last year, said Monday he was satisfied with the changes, which will allow him now to keep his chickens legally.
Trustee John McCabe praised the teamwork that went into developing the new ordinance.
"This is a fine example of everyone working together …" McCabe said.