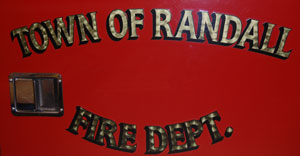 The Randall Town Board on Thursday approved a slate of officers for the Randall Fire Department for 2014.
The approval came on a 3 to 1 vote. Supervisor Randy Kaskin voted against approving the slate and Chairman Bob Stoll abstained. Stoll was one of the officer appointees.
The approval came after Philip Johnson, Randall resident and division chief for the Kenosha Fire Department, spoke from the audience asking the board to delay the approval until the board could examine the credentials of the appointees. Johnson contended some were not certified for the positions they would be assuming and he also objected to how many of them — including Chief Matt Gronke — do not live in the town.
"It should not be a coffee clutch; it should be a group of people dedicated to this town," said Johnson.
Stoll, who was appointed Bassett Station captain, pointed out that Gronke lives about "33 feet" from being in Randall (Gronke's home is in Twin Lakes).
Nancy Kemp, a Randall resident and fire department member who was also in the audience, defended the officers slate.
"Just because the people serving on our fire department don't live in town doesn't mean they are not dedicated … these people show up," Kemp said. "They are just a great team to work with."
Kaskin did not elaborate on his vote during debate.
The slate is recommended by the fire department membership. The top three positions — chief and two battalion chiefs — are elected by the fire department membership. Those three then appoint the line officers.
Recommended by the fire department and approved by the town board for the top positions were: Matt Gronke, chief; Ken Foscz, Bassett battalion chief; and Paul Pfenninger, Powers Lake battalion chief.
Line officers are: Stoll, Bassett captain; Chris Brown, Powers Lake captain; Bob Gillmann, Bassett lieutenant; Ken Wienke, Powers Lake lieutenant; Tom Huffine, dive master; Ryan Sereini, assistant dive master; Mike Kaphengst, secretary; Bruce Schaal, treasurer; Ted Wyka, training officer.