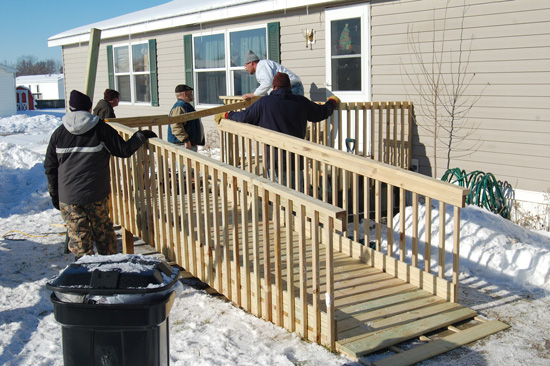 A Trevor family is benefiting this Christmas Eve — and in coming weeks — from an effort by Westosha Kiwanis Club and other volunteers and agencies to make their house more accessible.
Maryann Sosa and her daughter Isabelle are the beneficiaries of the improvements. About 20 volunteers Tuesday were installing a ramp to access the home's front door. In the past, Maryann has usually kept 17-year-old Isabelle's wheelchair in the car instead of the house because it was difficult to get into the house. Now she will be able to roll it with Isabelle up the ramp.
Jason Smith of Niles Construction and Mike Kanabay of Kanabay Construction built the ramp off site and then installed it and finished it off Tuesday.
Helping the Sosas got started with a discussion about three weeks ago between Wilmot Union High School special education teacher Marcia Nolan and Ben Lake, who coordinates the county's Family Support program. When Lake suggested enlisting a service club, Nolan contacted Steven Bluemel, the Westosha Kiwanis Club past president.
At Nolan's urging, the Wilmot Key Club raised $500, Family Support added $1,000 and Kiwanis contributed another $2,000 after a special board meeting.
But Bluemel pointed out that the real donation came from volunteer hours and expertise.
Next the group plans to replace the home's furnace, which will be donated by Reliable Heating and Air Conditioning (Note: Reliable is a westofthei.com sponsor — DH). Kenosha Plumbing is donating work to make the bathroom more accessible.  All told, Bluemel said the complete project is valued at about $25,000, but will actually cost only about $3,000 due to the donated work, supplies and volunteer help.
"I can't believe how quickly this all came about," Maryann Sosa said.
In addition to the construction work, Christine Winfield and Deila Degner got together two baskets of food, other household supplies and gifts for Maryann and Isabelle.
The Westosha Kiwanis Club is planning to make a Christmas Eve service project an annual tradition.
"Every Christmas Eve, we're going to put some project together," Bluemel said.