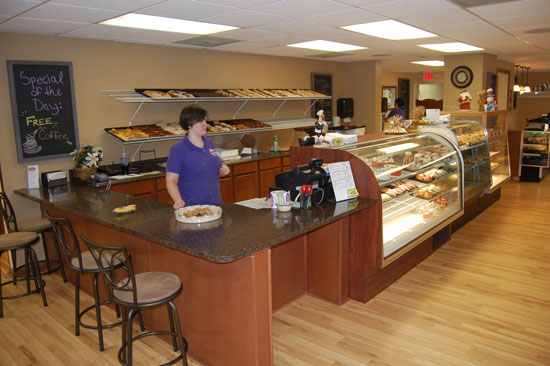 Note: Heidi's Bakery & Cafe is a westofthei.com sponsor. — DH
Heidi's Bakery & Cafe is open in its new Paddock Lake location as of today.
The new bakery and cafe has been the result of months of work by the owners Heidi and Michael Schuerstedt of Bristol remodeling the building at 24123 75th Street in Paddock Lake,  just a couple of buildings east of where Heidi's Bakery has been open since the summer of 2011.
The new location offers several new features besides the baked goods that have made Heidi's reputation including:
Breakfast sandwiches available on croissants, bagels or pretzel rolls.
A lineup of signature panini sandwiches and other sandwiches and soup.
Chocolate Shoppe Ice Cream, with 12 hand dipped flavors available.
Tables and chairs for comfortable dining in and another room with furniture that will encourage you to relax while enjoying your Heidi's treats.
The full range of baked good are still available from donuts, to cookies to custom cakes to pastry.
Heidi's Bakery & Cafe also has room for banquets, meetings, parties, showers etc. (up to 30 people).
Heidi's Bakery & Cafe is open seven days a week at 7 a.m. Phone: 262-586-8000. www.heidisbakery4u.com.