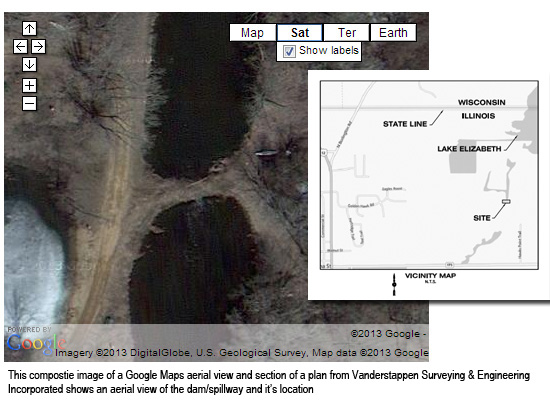 The Twin Lakes Village Board voted 6-1 to go ahead with seeking proposals for the Lake Elizabeth spillway repair.
That one dissenting vote came from Trustee Kevin Fitzgerald who mounted a concerted effort — complete with a slide show — arguing against the fixed height of the spillway in the design for the new structure. The current structure, which everyone seems to agree is in disrepair, has removable boards, allowing water to flow over the dam to lower the level on Lake Elizabeth. Replacing that system with a fixed top height will mean more days of slow no wake due to high water as well as increased shoreline erosion, Fitzgerald contends.
"We're going to have no way to help the lake go down," Fitzgerald said. "If we build this, there is no management; we've taken away the tool."
But the engineer who designed the plans for the new spillway, Michael Caldwell of Vanderstappen Surveying & Engineering, said the adjustable board design likely would not be permitted as the Army Corps of Engineers and the Southeastern Wisconsin Regional Planning Commission have both called for a fixed spillway. That is what they see as providing the healthiest lake and wetlands adjoining the channel leading to the dam.
The dam is located down a channel about .5 mile from the south end of Lake Elizabeth. While the dam property is in Illinois, it belongs to the village.
Village administrator Jennifer Pollitt said actually requesting proposals for the project is contingent on receiving a last permit. If no significant delay develops, the village would like to see proposals returned by Jan. 10.
Related posts