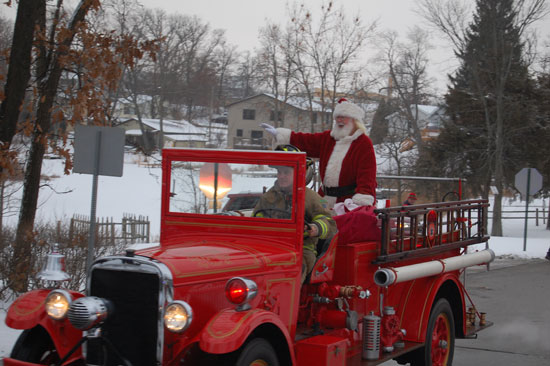 Paddock Lake hosted its first lighted holiday parade Saturday.
Decorated parade units from local businesses and organizations lined up at McAlonan Park on the west side of the lake and made their way to village hall on the east side of the lake greeted by spectators all along the route. Salem School choir students brought music to the event with singing of Christmas songs in the parade.
Santa lead off the parade, riding on an antique fire engine provided by Town of Salem Fire/Rescue. When Santa arrived at village hall, he lit the official village Christmas tree and then stepped inside to hear Christmas wishes from the young attendees. Each youngster that visited with Santa also received a bag of goodies. There were refreshments available for everyone.
Because of the timing of the parade and the amount of time it took to make it along the route, it started in daylight, but finished in the dark. Here's some video of all of the parade units at the beginning of the route: 
Here's some video of the parade at the end of the route in the dark, followed by some photos: